The TRIANGULUM Steering Committee met in Eindhoven on 22nd – 24th June 2015 to discuss the progress of the project and to visit the Lighthouse District Strijp-S, a central development area situated in the former innovation hub of Philips. The project aims at transforming the former area into an innovation district providing the right eco-environment for the development of smart services and start-ups. In order to do that, a variety of different concepts and co-working facilities, exhibition areas, innovation laboratories and business incubators will offer their services and working space to the young companies of tomorrow.
http://www.strijp-s.nl/en/today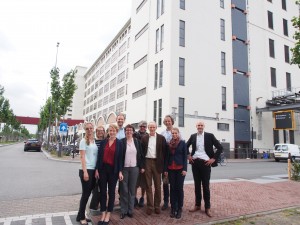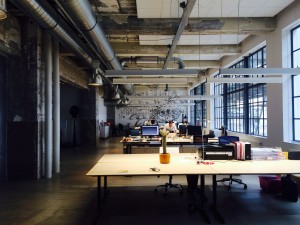 From the left: Belma Covic (Stavanger), Michelle Oddy (Manchester), Nora Fanderl (Fraunhofer), Damian Wagner (Fraunhofer), Alexandra Fezer (Steinbeis-Europa-Zentrum), Gerd Seehuus (Stavanger), Henk Kok (Eindhoven), Hans van Amelsvoort (Eindhoven), Saskia Heyde (Steinbeis-Europa-Zentrum), Thijs van Dieren (Volker Wessels).
(Pictures: Fraunhofer IAO)