Just a few weeks ago, we were enjoying sunny beaches or discovering new places. Now, it is already September and we all know what this means: Summer is over and it's finally Nordic Edge time!
This year, it is already the fourth time that Smart City experts, project and city representatives, the European Commission, smart technology providers, start-ups and universities are gathering in Stavanger, Norway to visit and participate in the most significant Smart City event in the Nordics.
Starting with 500 participants in 2015, the conference and exhibition has attracted over 4.500 visitors in 2017! So don't miss this year's Nordic Edge and be one of thousands of visitors following the announcement "Smart with a heart"! The theme emphasises the quest that Smart Cities and societies are not only about technical advances and energy efficiency but also about people – the citizens that live and work in the urban environment. It is also about citizen engagement, a crucial precondition to ensure the continuous development of a Smart City even beyond the end of EU funded projects. To Per Fjeld, Project Manager in the Research, Development and Innovation department of our project partner Lyse AS, "it is about passion and health and about the fact that smart solutions are not created solely by tech nerds!". Katelien van den Berge, Deputy Coordinator of Stavanger and thus deeply involved in the organisation of the event, emphasises that "we should all keep thinking with our heart as well".
Nordic Edge is always a special event for Triangulum, not least because it is taking place in one of our three Lighthouse Cities but also because project partners such as Lyse AS, Stavanger Kommune or Greater Stavanger are some of the founding mothers of the event. As the hosting city, Triangulum's Stavanger partners have always played a crucial role in the organisation of the event. This year, Triangulum for the first time functions as the chair of the SCC1 Board of Coordinators as well as the Communication Task Force, which means that we have been putting all our forces together to make Nordic Edge an exciting event!
In line with this year's theme, the SCC1 group has put all their hearts into the organisation of the event. And the results are impressive: The SCC1 group is contributing to Nordic Edge 2018 with an entire day dedicated to the Horizon 2020 Smart Cities and Communities Lighthouse projects, a joint booth at the exhibition area, internal SCC1 task force meetings, a city visits to Stavanger's demo sites, an informal SCC1 get together, several side events such as replication workshops or pitching events for startups (organised by the city network Morgenstadt) and much more. However, what's most valuable about all this is the fact that "we have created a platform for all Lighthouse- and Follower Cities as well as other project partners to meet and get into exchange with each other. And this time, not only on project coordinators, but also on executing level, which is really the "heart" of a project", as Katelien van den Berge has put it. You see, we keep coming back to the theme of this year: Smart Cities are about being smart with a heart.
As one of the "senior" projects, Triangulum will be involved in various sessions. The implementation phase of our project has ended and for more than six months now, we have already been monitoring the outcomes of our three Lighthouse Cities. Eindhoven, Manchester and Stavanger have been working on various case studies with smart solutions that are now ready to be replicated in Follower and other interested cities. For sure, the focus of the three first SCC1 projects GrowSmarter, Remourban and Triangulum now lies on providing first outcomes and impact data as well as lessons learned for their fellow SCC1 projects and interested replicators to pave the way for a continuous development of smart cities way into the future.
So join our group of 12 Horizon 2020 SCC1 Lighthouse projects with currently 78 cities involved at this special event: meet us, talk to us and learn from our experiences regarding topics like replication, big data, business models & finance and how to best communicate these results to the outside world! The projects will present first outcomes and solutions from their Lighthouse Cities as well as talk about the progress in their various Follower Cities.
The special H2020 SCC1 day is taking place on Thursday, 27 September from 9 am to 4 pm. For an overview of sessions and workshops (both public and internal), please check out the official Nordic Edge website or the Triangulum events section. Moreover, come and visit us at our joint booth where, together with the Smart Cities Information System SCIS and the European Innovation Partnership on Smart Cities and Communities (EIP-SCC), representatives from all SCC1 projects such as work package leaders, project coordinators, technical, city or communication representatives are waiting for your arrival! If you ever wanted to really get in touch with a Smart City project partner to ask specific questions or exchange certain thoughts, this is your chance. Need an ice-breaker? How about discussing with Per Fjeld, who will be there in Stavanger on Tuesday already, whether it is time to have a critical and somewhat humorous look at the term "smart": "Is the term outdated as the cities move on?" And really, "Who wants to be a dumb city?". So don't wait any longer, come visit us in the exhibition area and get answers to your questions!
Horizon 2020 Smart Cities and Communities Program on 27 September: Click here
Joint SCC1/SCIS/EIP-SCC booth at the exhibition area: Click here
Official Nordic Edge Registration: here
(SCC1 project members, please contact your coordinator or communication representative for registration info)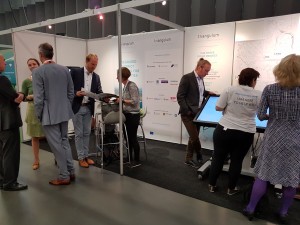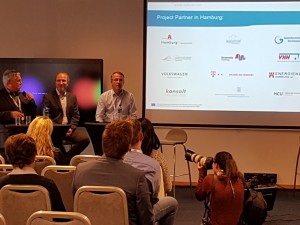 (Pictures: Nordic Edge, Fraunhofer IAO and Steinbeis-Europa-Zentrum)