The city district Prague 7 will soon open a showroom with medical and compensatory aids for its citizens. The project has been inspired by the European Smart City project Triangulum, when representatives of Prague 7 and IPR Prague visited the Lighthouse City Stavanger in 2018 to learn about their Smart Home Care approach. During the stay in Stavanger the delegation also visited the showroom at the innovative social and health care department. For the realization of a similar offer in Prague, the waiting room of the Polyclinic of Prague 7 will be transformed. Currently, the Social and Health Department of the Prague 7 district is preparing the room to present various devices that can make life easier for both sick people and their peers and care takers. The aim is to inform elderly people and their peers how they can stay at home longer on their own, which devices can support them to do so and to receive an overview of all available social and health services.
The visitors of the showroom will find a display of eating rehabilitation, sanitary aids and various further supporting devices, including information whether they can be obtained via prescription from a doctor.
In addition, the showroom will inform about innovative technologies such as applications for emergency services, for deaf people, first aid and visually impaired and a database of barrier-free places.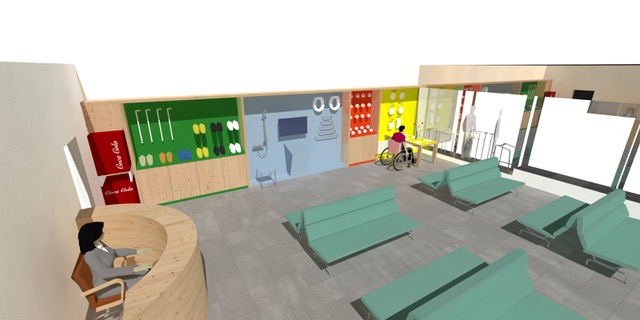 Future Showroom of Prague 7
Credits: Tomáš Obrtel
Another part of the showroom will provide a virtual reality experience for cognitive disorders and electronic drug dispensers. Furthermore visitors will see samples for emergency care, including a list of registered providers of this social service with examples of facilities and their price lists and a catalogue of possibilities for renting medical and compensatory aids, which is free of charge for citizens of Prague 7. On an hourly basis, an ergo therapist explains how to use the helping devises in an appropriate way and consult visitors in selecting the most suitable devices for them.
The city district finances the implementation of the entire showroom. The devices and new technologies will be provided by the companies that invented and now offer these products.