Mark your calendars for our final Triangulum webinar on the wider impacts of the project.
When: 28 January at 10 AM (CET)
Speakers:
James Evans (University of Manchester)
Kelly Watson (University of Manchester)
Dujuan Yang (Technical University of Eindhoven)
Joe Lake Rees (University of Manchester)
Topics:
The webinar will cover:
brief overview of Triangulum, provide insights from its final year in terms of key lessons learned, leveraged value and other benefits, replication potential, etc.,
the monitoring and assessment framework and results from the final year,
an overview of our experience with SCIS, including challenges of integrating this into a live project.
Each presentation will be approx. 15 minutes in length. We will then take questions and encourage more of a discussion.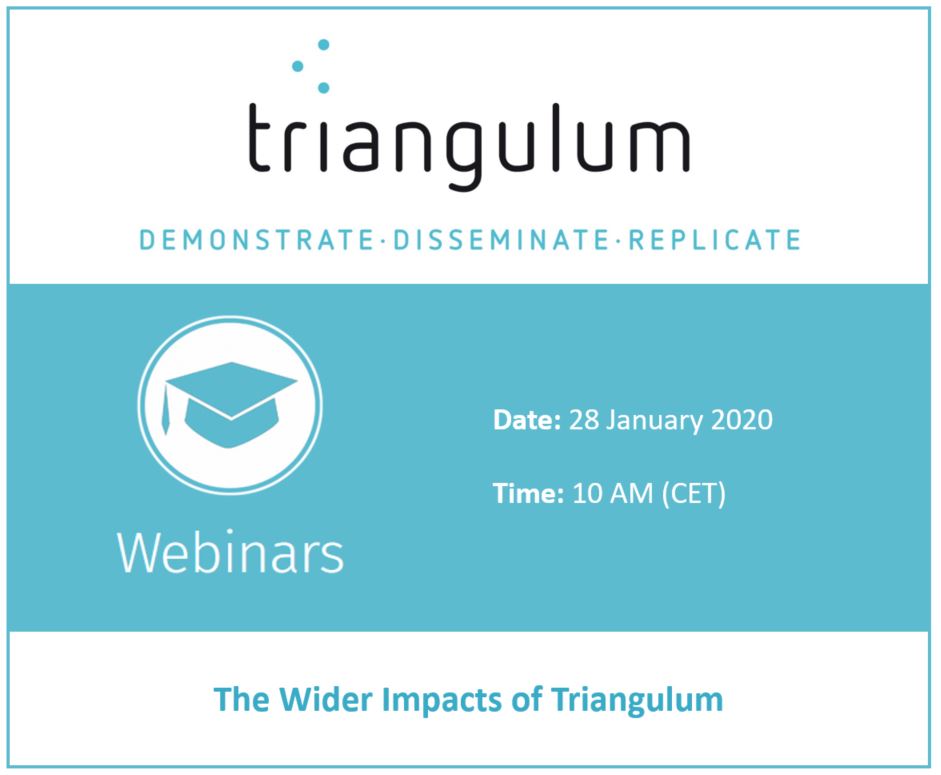 Link: https://global.gotomeeting.com/join/124867349 (no registration needed!)
One can also dial in using a phone.
Access Code: 124-867-349
United States: +1 (571) 317-3116
Austria: +43 7 2081 5337
Belgium: +32 28 93 7002
Denmark: +45 32 72 03 69
Finland: +358 942 72 0972
France: +33 170 950 590
Germany: +49 693 8098 999
Ireland: +353 15 360 756
Italy: +39 0 230 57 81 80
Netherlands: +31 207 941 375
Norway: +47 21 93 37 37
Spain: +34 932 75 1230
Sweden: +46 853 527 818
Switzerland: +41 225 4599 60
United Kingdom: +44 20 3713 5011
Questions? Please get in touch with Bettina Remmele: remmele@steinbeis-europa.de